12.07.18
Eye treatments: brightening and tightening the skin
Treating the eye area has traditionally been quite difficult for aesthetic practitioners and medical professionals alike. Nevertheless, it remains a popular area to request treatment for, and the aesthetics world as adapted and answered your calls! As a skilled advanced aesthetics practitioner trained on Harley Street, Emma offers unparalleled eye treatments. We lift, brighten, and tighten the skin around the eyes to tackle a variety of complaints…
Why the eyes?
As our skin naturally ages, a great skincare routine to promote its health is essential. However, because our eyes are so sensitive, it's difficult to make sure our skincare routine covers the skin there. This is the same for sun damage – because the skin is thin and difficult to adequately protect without getting sun cream in our eyes, the premature signs of ageing often develop there first.
Our eyes and the eye area in general are also the culprits for betraying expressive lines and wrinkles. Smile lines and crow's feet appear at the corners, raising our eyebrows creates forehead lines, and loose eyelid skin drooping down gives us a tired or unwanted aged appearance. Our eye area expresses a lot during communication whether we mean it to or not, so these lines and wrinkles appear naturally though often unknowingly. The eyes are the windows to the soul, and your soul definitely isn't tired or dull, so why should your eye area be?
Eye treatments for brightening and tightening
 When combatting common complaints about our tired eyes, we need to first consider what you do (or don't) need. An in-depth consultation regarding your target areas and what you perceive your problem to be will ensure that the best treatment options are presented to you. We'd never perform eye treatments that aren't necessary or are against our better judgement, we'll always be honest in order to provide the best results for you!
Under Eye-area
The under-eye area is traditionally difficult to treat because of how thin it is, how close to your actual eye it is, and the complexity of what lies under the skin. It remained a difficult area to treat until the advancements in certain non-surgical procedures such as Ultherapy. This ground-breaking treatment lifts and firms the skin under the eyes to lessen the appearance of crow's feet and wrinkles. It does this by stimulating collagen production deep with the skin, naturally firming and tightening the target area over time.
Drooping Brow
A drooping brow pushes the skin underneath of it and on top of our eyelids downs, creating folds and a sort of sad or tired appearance. Because our brows are such expressive parts of our face that we subconsciously move and react with, their falling and drooping makes us appear far more morose than we may be. Lifting the brow area can be achieved with Ultherapy to tighten the skin, pulling them up, but also with anti-wrinkle injections. These medical injections are commonly associated with just that – wrinkles – but they're also capable of lifting the brow. By injecting at a strategic point, we can replenish the brow's natural arch and lift it to tackle drooping or sagging.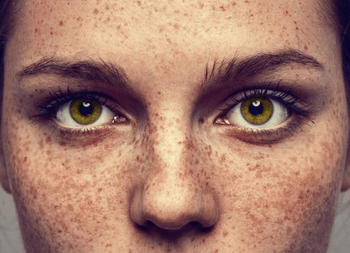 Smile lines & Crow's Feet
Smile lines or crow's feet are another extremely popular area for eye treatments in aesthetics. They signify a life full of laughter and grinning because the skin can fold in memory of those movements over time, but they also prematurely age us. Here we also use wrinkle reduction for this exact purpose, relaxing the overly expressive muscles beneath the skin without inhibiting your natural ability to smile. This treatment makes all the difference for those worried that their smiling is making their skin appear older than they'd like.
Thinning Eyelashes
Thinning eyelashes can make you appear ill, prematurely age you, and generally not make you feel great about your appearance. For those who are inclined to wear makeup, we understand mascara and eye makeup products can be frustrating when they just don't seem to perform for us without thick and natural lashes. Emma J Aesthetics in Inverness offer a prescription-only treatment to lengthen, darken, and thicken your eyelashes completely naturally. Lengthened and darkened lashes can really make your eyes 'pop' and appear striking, beautiful, and bright. It is currently the first and only FDA-approved treatment for these purposes, which is we're so glad to provide it!
The eye area, as we've explored, has been historically difficult to treat… until now. Speak to a friendly member of our booking team on 01463 830149 or enquire online to achieve alert, bright, and bold eyes today!